Reviews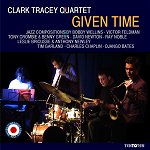 Clark Tracey Quartet
'Given Time'
Evening Standard
Jack Massarik

Any select anthology of British songs must contain such evergreen standards as Cherokee (Ray Noble) and Smile (Charlie Chaplin), but this one also covers worthy lesser-known originals by Tim Garland, David Newton, Bobby Wellins and other contemporary jazz musicians. Drummer Tracey puts quality before quantity, leading a studio trio with the sparky Gareth Williams on piano, augmented to a quartet by eclectic tenorist Brandon Allen, best of the current crop of Australian saxophonists. Seven Steps to Heaven, by Victor Feldman, and Django Bates's moodily repetitive but fascinating line, I Can't Get Started Either, are the pick of a straight-ahead jazz set performed with exceptional skill, imagination and conviction.
Clark Tracey Quartet - Given Time
Peter Vacher, Jazz UK

Drummer Tracey has found a niche here, on the second album in a series devoted to British writers. Pieces by jazzers like Bobby Wellins, Victor Feldman, Tony Crombie, Tim Garland and Django Bates join others by songsmiths Bricusse, Noble and Chaplin. Add Tracey himself, the piano of Gareth Williams, bassist Arnie Somogyi and the Dexter Gordon-like tenor of Brandon Allen, and it's a prospect to relish. Allen leads off assertively on 'CUCB' by Wellins before Williams moves in to augment the hard-bop feel. The pianist then lets his high-energy right-hand runs fan out on Feldman's anthemic 'Seven Steps'. 'Cherokee' finds Allen exploring the tenor's sonic potential before setting into the theme. It's a winning combination of first-rate playing (especially from Williams) and superior material.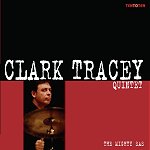 Clark Tracey Quintet
'The Mighty Sas'
Jazzwise April Issue 06
By Peter Vacher
Tracey's current quintet has been bedding down for some time now: this is their second release. He says its members feel "relaxed enough with each other's playing to know we can rely on each other." That sense of mutual agreement and ease is evident on their live gigs and comes through well here. Tracey's title piece has just the right kind of loping, hard-bop feel with Rahman scoring early points. Her composition, 'The Camel' is invigorating, an intricate mixture of rhythmic devices and time patterns that almost defies description: again, she's heard at some length, percussive and stompy, before Armstrong's slightly strained trumpet enters over her Taylor-like galumphing and Tracey's cross-rhythms. Allen is on tenor here, fast-fingered and soulful in the manner of Fathead Newman. Armstrong's 'The Green Man' would have pleased Art Blakey, with its seesaw movement, neat dynamic shifts and jubilant quality. More follows on 'Nippon Soul' by Nat Adderley, where Allen light-toned improvisation gathers pace and Armstrong produces one of his best solos of the date, using space and half valve effeccts to add colour before Rahman displays her own darker thoughts. I've liked this band from the off. They play with undisguised zest, think hard about their compositions and have produced an album that balances conviction with genuine creativity.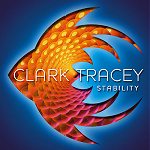 'Stability'
This is a marvellous record and shows just how much British jazz has matured over the years. Clark has assembled a dream cast of major local talent...
Tony Hall. JazzWise.
...Here Clark as a bandleader elicits superb, searching solos from the cream, of Britains front liners...
John Lewis. Time Out
an unexpected class act...and utterly without affectations too.
John Fordham. Guardian (jazz cd of the week)
Scion of foremost English jazz pianist Stan Tracey, drummer Clark Tracey has gathered a group of top-of-the-list U.K. jazz artists for a session that incorporates a variety of playing modes, including a contribution by Irish avant-garde singer Christine Tobin. There's hard bop, some smooth jazz, and pretty ballads with a string quartet in attendance. Tracey has found a successful and accommodating method to solve the conundrum drummer leaders often find themselves faced with, viz., to dominate and run the risk of overwhelming or to lie back and be the main rhythm. He provides rhythmic support, adding well-timed drum breaks and short but telling solos. The drummer adopts a broad definition for "support." Tracey is quite active on such cuts as "Giant Steps," where he and pianist Gareth Williams offer a much more straight swinging version of John Coltrane's classic than usually heard, likely because of the strong involvement of Tracey's drums. On tunes as "Black Coffee",,the drummer lays back as Tim Garland's sax takes the lead with the Locrian String Quartet on hand to provide the bulk of the musical background. Tracey also contributes well conceived, melodic originals such as "Lounge Blues," a tune that exudes an exotic aura which Iain Ballamy's soprano sax helps create with Tracey's cymbals and Arnie Somogyi's bass. Irish singer Christine Tobin provides a vocal recitation of the moving poetic lyrics for Tracey's "Stability." The lieder recital mood is set by the Locrian String Quartet, the only instrumentation on the track. One of the more intriguing cuts is a pensive piano solo by Tracey, giving a rare airing of Duke Ellington's "Melancholia." Stability is a seminar on eclectic musical styles and is recommended.
Dave Nathan, All Music Guide
CLARK TRACEY, son of Stan, made his reputation as a crisp hard bopper, but, like his father, he aspires to more. Stability is his most ambitious - yet self-effacing - session to date, in effect a showcase for the British musicians who have come of age alongside him. Tracey hurls himself into the engine room on the opener, Gone; elsewhere, players of the calibre of Nigel Hitchcock and Gareth Williams get to put their stamp on the proceedings. The settings for the Locrian String Quartet are handled with some flair. Tributes abound, from the evocation of Stan Getz's feathery timbre on The Peacocks to the all too rarely heard Melancholia, borrowed from Duke Ellington's Piano Reflections LP. Vocalist Christine Tobin negotiates the mildly dissonant contours of the title tune while, as a curtain closer, Tracey slips into funky guise for the fusion piece Boaz.
Clive Davis, Sunday Times.
Son of the renowned pianist, composer and arranger Stan Tracey, Clark began playing regularly with his father's bands as far back as 1978, and over the years has developed to become on of the UK's most experienced drummers. This HDCD recording sees him joined by a wealth of talent. The album opens with a paired down for 6 players, not the full 'big band' - Gil Evans arrangement of Gershwin's 'Gone' from Porgy and Bess. This works well, the number driving even harder than its full band ancestor and with players of the calibre of Andy Shepherd and Iain Ballamy on hand, it's little surprise that it works so well. 'Lounge Blues' highlights some superb piano work from Gareth Williams, also some great bass playing from Arnie Somogyi. Thelonius Monk's 'Ugly Beauty' sees Symogyi and Guy Barker on trumpet joined by the Locrian String Quartet. Fine atmospheric stuff. And so on: throughout the album Tracey has featured different soloists to take the lead on each track, assigned according to the mood of each piece. Good clean recording, sounding just fine on my HDCD equipped player. This is a well recorded, well judged CD.
Hi-Fi + News
"As a soloist, Tracey is one of the most entertaining drummers to grace these shores since Akira Tana"
- Sydney Morning Herald
"Clark plays with a keen-eared awareness that's rare among today's drummers"
"Tracey has always been a highly tasteful and thoughtful drummer" - Manchester Guardian - Pete Martin
"There is a calm authority about Clark Tracey's drumming: he appears undemonstrative, even cherubic, and scarcely seems to move, while all the time generating tremendous power"
- The Guardian - Ron Atkins
"He brings the fruits of touring and recording with Buddy De Franco/Martin Taylor Quintet, Art Farmer and James Moody, amongst others, to the band; and that experience, coupled with the fact that he grew up on jazz as the son of pianist Stan Tracey gives well placed confidence"
- Sunday Star - Elven Ho
"Having just finished an engagement with the legendary Art Blakey; it would not be surprising if he was still tingling from a brush with history"
- Bangkok Herald - Bernie Cooper
"His drumming energised the group continuously in the ensemble work, and his solo in "Suddenly Last Tuesday" made you wish it would just continue, because of its creative ideas in rhythmic, counterpoint, attack and pulsating enthusiasm"
- Hong Kong Standard - Peter Stone
"Clark Tracey is not the run-of-the-mill skin-and-sticks man who indiscriminately beats and bashes everything within arms-length. He picks the right spots for bombs and crashes and at variable levels of dynamics"
- Panya Panichsmsuk, The Nation
"He is one of the sharpest jazz drummers in the country"
- Birmingham Evening Post - Neville Hadsley
"If Blakey has a UK equivalent, it is fellow drummer Clark Tracey"
- The Independent - Chris Parker
"An apprenticeship in the top flight has forged Clark into one of the most impressive jazz drummers in Britain today"
- The Times - Richard Williams